Gatorzone.com-the official website of Florida Gator athletics. Great information, images, sound clips, and information. Plus the most current scores on the net!
My Gator World- A great website with tons of pictures, links, and a Rowdy Reptiles section.
Gatorman- A video game for all Gator fans. You gotta try it!

ESPN- The worldwide leader in sports.
The Swamp.com- Good news source for Gator Football and Basketball
Gator Bait- Gator football, basketball, and recruiting.
Gator Network- Gator news, coaches, and downloads.

Sunshine Network Insider- Gator news, store and forums.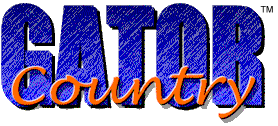 Gator Country- One of the best sites on the web! Message boards, news, stats, photo galleries, and chat rooms.

Florida Gators.com- News, photos, clubs, and a store.

FSU Sucks- Great Gator football site, the name says it all!

Gators Vs. Noles- The best rivalry in the world on the net.
Gator Football- What more is there to say?
Florida vs. Georgia- The World's Largest Outdoor Cocktail Party online.